Would you like to swing on a star?
Look at the new awesomeness I have in my backyard!!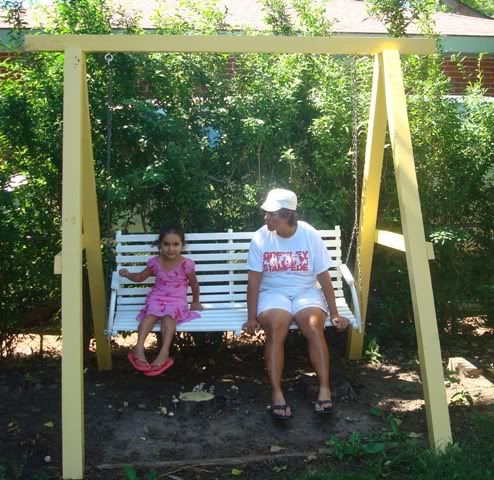 Tina brought the swing from her Mom's house, and built the frame for it and painted it a couple of weekends ago.  It's well shaded by the jungle of trees back there, and very nice to sit on!  Tomorrow I might try out laying down on it with a book.  We'll see if I can manage that without falling out.
After it was all set up… Tina, Maddie, & Jimmy built this cute little colorful birdhouse out of popsicle sticks!  It was waiting for me to see when I came home from work.
My wonderful cement bench is now on the side of the yard, in front of the vines climbing up the fence and shed.  I do have a very pretty picture of it, but I don't seem to be smart enough today to get it rotated and cropped and uploaded and linked and all that.  I'll try again when it's light out, and I can take some pics of the crazy garden too.
You can follow any responses to this entry through the RSS 2.0 feed. Both comments and pings are currently closed.