C is for cookie, that's good enough for me…
I made stuff today!
These are Cracked Sugar Cookies, also referred to as "crack" sugar cookies due to their addictive nature!  I got the link to the recipe from Debra, through one of those fun little games on Facebook where you ask people to say what they remember about you.  And you hope they come up with something flattering!  🙂  (Feel free to ignore the sharps container, turtle food, Silly Putty, etc. in the background of the pic…)  I doubled the recipe, thinking that this house would go through 24 cookies in about 10 minutes.  Instead, I got somewhere over 9 dozen cookies, not including all of the cookies I ate… well… raw.  The cookie dough was tasty!  I know it's not a good idea to eat raw cookie dough, but I've read about how the risk of disease from raw eggs is MUCH lower now than it used to be, with all the pasteurization & sciency stuff we have now.  Who knows if it's true?  I hope so.  I used one of my cool little disher-scoop thingies, so all the cookies were uniformly sized.  The baking on them is all uneven… my oven seems to have some quirks.  It definitely doesn't bake very evenly, which means it's probably time to upgrade.  Which means it's definitely time for Mom & Dad to upgrade (hint hint, Dad – yours is getting really really really old, don't you think?), then they will need to find a way to dispose of their old one, which is where I come in. 
I also made this: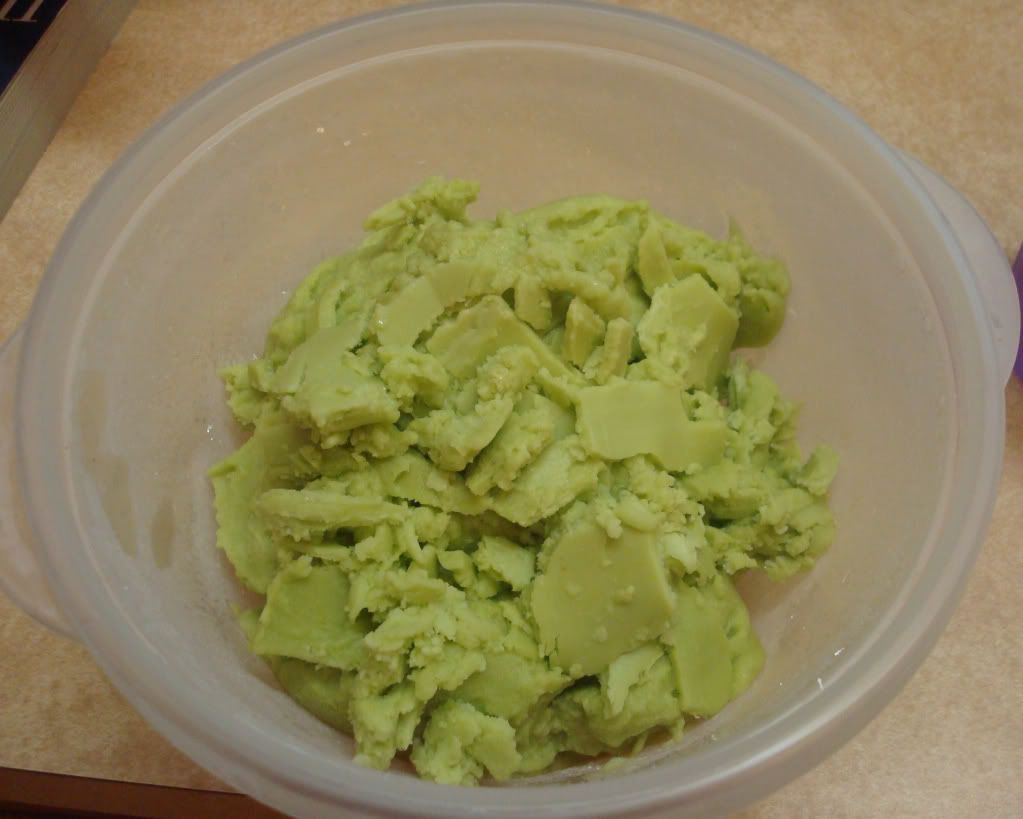 It is Alton Brown's Avocado Ice Cream.  I think it's DELICIOUS.  Cold, refreshing, and not too sweet.  Tina thinks it needs more sugar though.  I had a little dish of it this morning after it came out of the ice cream maker when it was still sort of soft.  I cut down the fat in the recipe – subbing half & half and skim milk for the heavy cream and whole milk.  In some recipes, this makes the texture a little… grainy, I guess is a good word for that.  But this one seems to have enough fat from the avocados that it still feels nice and creamy.  Yet another reason to proclaim my eternal love and devotion to Mr. Alton Brown. 
You can follow any responses to this entry through the RSS 2.0 feed. Both comments and pings are currently closed.