Beer Wench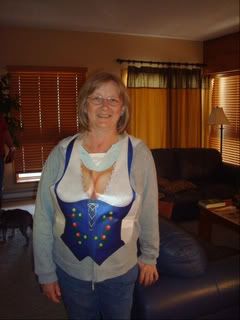 Here's a picture of Mom recovering from her Breckenridge Oktoberfest adventures.  I didn't get a pic of her carrying the liter-size mugs, 5 in each hand, though…
Thanks to Josh (Tina's nephew) for picking up the apron.  Dad wanted a picture of one of these, and this way I didn't have to stop a random stranger in the street to see if I could take a picture of her (or his!) cleavage.  Mom was quite a big hit at the other shops in town, though.  I don't think I've ever actually heard someone tell my mom "Nice cleavage, lady!"  🙂 
Fortunately, the weather the last couple of days has been GORGEOUS.  Unlike the first day, when Tina & Josh had to (oh yes, HAD TO) golf in "hail, wind, rain, snow, and sun," all in the space of 9 holes.  Gotta love Colorado weather.  Especially in the mountains.  In the fall.  "If you don't like the weather, wait 5 minutes.  It'll change!"  Don't they say that about Wyoming, too?  Anyway – it has been fun wandering the street party they have going on here – the people watching (and listening!) has been entertaining!
In other news, I'm "twittering" now.  More ways for me to update people on the truly fascinating adventures of my life.  So far, I think I've posted three things.  Pretty exciting stuff.  We'll see if get any more active with that game.  Most of what I would ever post is… "At work."  "Driving home from work."  "Driving to work.  Stop at Starbucks or McDonald's?"  "Mmmm, Starbucks….."  In theory, I'd update that more often than the blog here, since I can even do it from my phone.  We'll see.
Love to all!!
You can follow any responses to this entry through the RSS 2.0 feed. Both comments and pings are currently closed.