Been a while (again)…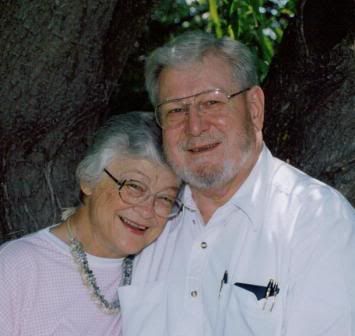 So much has happened since I last wrote.  My Grandpa John (my mom's dad) passed away the Saturday before Thanksgiving.  It's hard to even know what to say about it, as you can imagine.  It was sad.  He was so funny, talented, and bright, and he'll be giving us all wonderful memories for the rest of our lives.  The picture is of Grandma & Grandpa in their backyard, on their 50th anniversary.  Grandma Hope was kind enough to honor my brother and I by letting us participate in the service – we both did a scripture reading, Randy did a beautiful and eloquent eulogy, and I sang.  Grandma & Grandpa's great-niece did a French horn solo, which I'm sure Grandpa loved!  As sad as the occasion was, it definitely brings to mind how blessed I've been, with wonderful and loving family and friends.  Thank you all!
One of the funnier notes from the last few weeks (because I handle sadness with inappropriate attempts at humor)…
Last Saturday, I decided to take the dogs with me to drop off Tina at the airport and go visit Grandma.  They've been exceptionally well behaved and well mannered lately (except, of course, for Tillie's unwavering obsession with getting my dad to throw her toys).  And Reggie had been a real blessing to have around Grandma's house, and she'd enjoyed him – so much that she said if she could find a dog just like him, she would have a dog!  So, I thought, "bringing the dogs to Grandma's house – great idea!"  Well… after they got through the first 10 minutes or so, they were very well behaved and sweet.  However – those first 10 minutes?  NAUGHTY!  We walked in , said hello, gave hugs, dogs did some sniffing, then walked out to the family room… where Grover immediately pooed on the carpet.  Awesome.  So we went outside.   Grandma and I watched the dogs for a bit, then went in to have some breakfast and left them outside to play.  Looking out the window a little bit later, I noticed that I only saw Grover – no Tillie.  So, I went out.  I called Tillie, then heard a THUD from the down-the-hill neighbor's fence.  I went to look over, and there was my dog.  Yep, she jumped the short side of the fence (the neighbors are down the hill), and landed in the much lower neighbor's yard.  She couldn't jump back over, and the neighbors keep their fence locked, so at 8:30 on a Saturday morning, I got to go knock on a stranger's door to tell them my beast had invaded their property.  It was all uphill from there.  Ha ha, literally, since we had to walk back UP to Grandma's house.  The rest of the visit was lovely – lots of good conversation, Grover got to snuggle up to a new person, and Tillie got to harrass someone new to throw her toy.  Next time we go?  Straight outside for Grover, but with supervision for the jumper!
This is a long post!  And I still have so much more I could write about.  Maybe another day.
You can follow any responses to this entry through the RSS 2.0 feed. Both comments and pings are currently closed.